Introducing Kindle Vella – Amazon's Newest Way to Reach Readers
Amazon has recently launched a new way for authors to reach readers – known as Kindle Vella:
U.S. based authors can publish serialized stories, one short episode at a time. In the next few months, readers will be able to access Kindle Vella stories in the Kindle iOS app and on Amazon.com.
So what exactly does it all mean? That's what we're here to help you with!
In this post, we'll take a quick look at how Kindle Vella works, what it means for self-published authors like you, what the content guidelines are, and what the implications could be.
Let's get started!
How Kindle Vella Works
So first thing's first, let's talk about how Kindle Vella works. It's actually pretty neat:
Kindle Vella is an episodic way of sharing serialized stories with readers over an extended period of time – one episode at a time.
Readers will find the story either through the Kindle Vella store on Amazon.com and on the Kindle app on iOS.
Once readers find your story, they can start reading immediately. Amazon has made it so that the first three chapters (i.e. episodes) of the Kindle-Vella story are free to read. In order to read any additional episodes, readers will need to spend Tokens to unlock them.
The number of Tokens needed to unlock an episode is determined by the episode's word count.
In addition to the episodic format of releasing content, Amazon has also introduced three new metrics for readers to interact with authors:
Follow – Readers can follow stories they like and get notified when the next episode is released
Fave – Readers can bookmark a story they like, and Amazon will feature the most Faved story in the Kindle Vella store
Thumbs Up – Readers can let the authors know they liked the episode with a Like/Thumbs-Up
For authors, they can add an Author's Note that lets them share with their readers any additional thoughts, insights, or even previews of what the next episode may contain.
Let's start with the most important question:
How much does Kindle Vella pay?
According to Amazon, you'll earn 50% of what readers spent on the Tokens used to unlock your story's episodes. In addition, you'll also be eligible for a launch bonus based on customer activity and engagement.
Here is how much Amazon is currently pricing Tokens: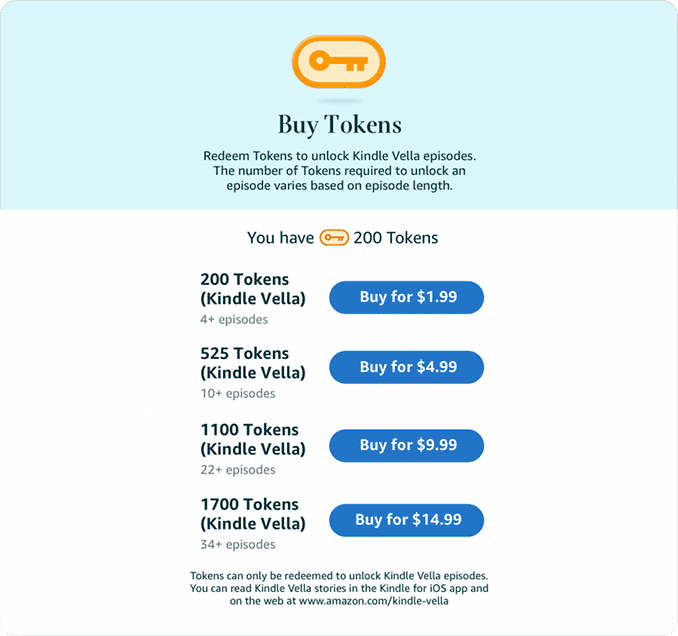 Based on those numbers at first glance:
Authors are paid about $0.005 per 100 words.
However, the amount paid out will also be dependent on the price the reader paid for their Tokens.
Here's a deeper look into how Amazon calculates royalties for Kindle Vella:
The formula Amazon uses is:
(Number of Tokens to unlock episode) * (Tokens bundle price/# Tokens in bundle – taxes and fees) * (50% rev share) = Earnings per episode
So let's say an episode is 3025 words – which costs 30 Tokens. The final payout is different depending on which plan the reader bought under. Let's say one user bought 200 Tokens for $1.99 and the other bought 1100 Tokens for $9.99:
Royalty earned on a 200 Token user:
30 Tokens * (1.99/200 Tokens – 0) * 50% = $0.1493
This is about $0.0049 per 100 words
Royalty earned on a 1100 Token user:
30 Tokens * (9.99/1100 Tokens – 0) * 50% = $0.1362
This is about $0.0045 per 100 words
When Amazon first announced Kindle Vella, 140 Tokens costed $1.99, two days later, Amazon revised the number down to 200 Tokens for $1.99. In other words, within 2 day of launch, Amazon has already decreased potential pay to authors by about 30%. This means that as Amazon continues to tweak and optimize the overall Kindle Vella ecosystem, potential payout can still remain in flux.
As for the launch bonus, there's not much information out just yet about how that'll be calculated. But I would guess that it will work similarly to how the most read authors in Kindle Unlimited are given a Kindle All-Star Bonus.
Now, let's talk about what all of this means for self-published authors and why you should start publishing on Kindle Vella:
Why You Should Start Publishing on Kindle Vella?
The idea of serialized content isn't new. In fact, if you've been publishing your works on Wattpad for the last few years, you'll immediately recognize how familiar Kindle Vella's business model sounds.
We immediately identified three main benefits that Kindle Vella addresses:
Kindle Vella pays a fixed rate of per 100 words instead of converting words into an opaque KENPC value.
Kindle Vella is arguably the fairest way that Amazon has ever paid its authors through an exclusive program.
Where Kindle Unlimited takes your manuscript and crunches it through a black box to give you the KENPC value (which can vary wildly based on how you space and format your books), Kindle Vella pays based on word count.
This means that no matter how you space and format your book, it won't change the number of Tokens it takes to unlock an episode. An episode can be as long as 5,000 words or as short as 600 words, and the pay per word will still be the same.
Kindle Vella captures a younger audience through micropayments
One of the key drivers for success on Wattpad is its ability to capture a younger audience due to its use of micropayments. As younger readers continue reading more and more content from a single author over time, they develop stronger brand loyalty to the author and is more likely to keep buying from the same author.
Kindle Vella is harder to game than Kindle Unlimited
If you've been publishing for a while, you'll know that Kindle Unlimited is on version 3.0 because people have been finding ways to abuse the payment system.
In the first version of KU, authors were paid when 10% of their books were read. This led to people publishing extremely short books that hit that 10% as soon as a reader opened it.
In the second version of KU, Amazon introduced KENPC and paid a per page rate in an attempt to fix the problem of extremely short books. This just led to unscrupulous authors publishing super long books of largely nonsense and embedding links within that takes readers to the end of the book, netting massive page reads.
This led to the third version of KU, where Amazon outright capped maximum KENPC at 3000. Of course, this still led to people combining books and offering them as "bonus" content.
This resulted in a "soft" fourth version of KU, where Amazon limited the total amount of bonus content to 10% of the book. But you get the idea: Amazon is always playing catch-up to make the system as fair as possible, and along the way, there will always be some authors who are unfairly caught up in the battle.
With Kindle Vella, this is the first time that Amazon has created a system that is incredibly difficult to game, as it is based on word count and nothing else.
Kindle Vella offers authors a more intimate way to connect with readers.
Kindle Vella – with its author notes – lets authors build up a much more personal relationship with their readers. This allows an author to establish a stronger brand identity, as well as build deeper reader loyalty.
The shorter format of the episodic Kindle Vella content also means authors can take reader feedback into consideration as they write their story. One prominent example of how a self-published author who did this is Andy Weir during the process of writing The Martian.
When Mr. Weir started writing, he originally posted the story in episodic content on Reddit, taking reader feedback into account–either by incorporating them into the story or using them to help correct any potential plot holes or scientific inaccuracies. By doing this, Mr. Weir built a strong relationship with his readers–reader who felt a personal connection to the story.
This kind of personal reader connection helped propel The Martian to the top of the charts on the day of release, and is what drove the success of the book all the way to the point that it was made into a blockbuster film.
There's so much more for what Kindle Vella means for self-published authors and the changes that it'll bring to the publishing industry at large, but I'll save that for later.
Because I know you–the author–are eager to know just what kind of content you'll be allowed to publish via Kindle Vella!
What are the Content Guidelines for Kindle Vella
Because Kindle Vella is such a radical departure from how books are usually distributed, there are some key content guidelines that you need to be aware of.
Story Image:
Similar to Wattpad, Kindle Vella requires that you put an image that conveys the broad feeling of your story rather than a cover. In fact, you don't even need to include the book title on your story image. Amazon recommends a 1600×1600 JPG or TIFF image under 2MB.
Episode Length and Formatting
Kindle Vella episodes must have a minimum of 600 words and a maximum of 5000 words. Currently, Kindle Vella supports basic formatting like bold, italics, and underline. It does not support more advanced formatting like indents, charts, images, special characters, tables, or emojis.
Author Notes:
Author notes on Kindle Vella cannot exceed more than 200 words and does not support HTML. You are also not allowed to link out or prompt users to leave the reading experience. So the author notes are not where you tell your readers to sign up for your mailing list.
Now let's talk about what you can't do.
You cannot:
Put together your Kindle Vella content into a book in any language. To do that, you'll need to unpublish from Kindle Vella first
Publish anything that is freely available on the web into Kindle Vella
Break down your previously published book into Episodes and republish in Kindle Vella – even if that book is no longer available or written in another language
In other words, you cannot recycle content for Kindle Vella nor can you turn your Kindle Vella content into a full book.
You must also adhere to any existing content and metadata guidelines that currently exist for eBooks.
And just like eBook, Kindle Vella books can have up to seven tags/keywords added to it so readers can get a feel for what the story is about. Here are things you should avoid doing in those keywords:
Do not include information covered elsewhere in your story's metadata like title, contributor, etc.
Do not include subjective claims like "best"
Do not include time-sensitive statements like "new"
Do not use information common to most items in the category like "story"
Do not make spelling errors
Do not misrepresent anything – Kindle Vella has a zero tolerance policy – i.e. they will ban your book and/or your account for repeat violation
Do not include Amazon program names (e.g. Kindle Vella, KDP, Kindle Unlimited, etc.)
Do not use language that promotes violence or intolerance
Do not use sexually explicit language
As long as your Kindle Vella content and keyword data does not violate any of the above, the sky's the limit!
How Kindle Vella Will Change the Publishing Industry
That's right, Kindle Vella–with enough support from Amazon–will completely change the publishing industry as we know it.
See, I told you it was going to be a doozy.
Let's just start with the most obvious one:
Self-Publishing is about to get a whole lot bigger
If I ask you what the most common form of self-publishing is on the internet, would you be able to name it?
Don't look below for the answer, that's cheating.
I'll give you a few more seconds to guess.
Okay. You got an answer?
Are you sure that's the final answer?
Last chance…
… alright, enough messing around – the answer is:
Fan fiction!
That's right, fan fiction makes up the most common form of self publishing on the internet, and for good reason. The only thing that a fanfic writer needs is a book or a series that they loved so much that they started writing off-shoot stories set within that world.
Now, there's conflicting thoughts on the merits of fan fiction among authors – with some encouraging it and others discouraging it. But what cannot be denied is the sheer reach and size of the fan fiction world.
In fact, one of the most successful self-published book that ever came into being–Fifty Shades of Grey–started out as a fan fiction to Twilight. And among the rest of the fan fiction stories out there, there are some truly well-written stories like Harry Potter and the Methods of Rationality.
But you know what the coolest thing is?
Fan fiction writers are extremely familiar with the episodic content format, because that's how most fan fictions are written. It starts off with the seed of an idea, and it gets refined and improved through immediate feedback.
Now, those fan fiction writers finally have an avenue to take their skills and monetize them in front of the massive Amazon audience. But that's just touching the tip of the iceberg for the changes that are coming:
Traditional publishers will face added pressure in the coming years
Assuming that Amazon provides Kindle Vella with robust support, we will see traditional publishers come under increasing pressure to make adjustments and changes to their existing model.
With Amazon's deep reach, a widespread adoption of the Kindle Vella episodic format for books will mean that traditional publishers like the Big 5 will need to start making adjustments to the way they publish their books.
Moreover, by giving authors 50% of the money spent on their content, Amazon has democratized the publishing space even more than what has been done in the past.
Writing longer content is no longer "risky" for authors
One of the biggest fears that an author–especially a self-published author–has is writing a magnum opus, putting it out there, and then seeing it flop. With Kindle Vella and the episodic release format, the barrier to getting started is lower than it has ever been.
And like I mentioned earlier in the article: the immediate feedback authors can receive from their readers means that authors who embark on writing epic-length stories will also have the help of their readers.
Reader participation will help an author keep details in longer stories straight, come up with new challenges for their characters, and incorporate new ideas that readers come up with to take the story in new and interesting directions.
Tell us your thoughts!
Wow, that was a lot of words. Now we want to hear from you!
What are your thoughts on Kindle Vella?
What stories are you planning on publishing through it?
How do you feel about episodic content?
Where do you see Kindle Vella going in the next few years?