Automatically Combine Book Sales & Expenses
Save time and make better business decisions by auto-importing daily book royalties and ad expenses across multiple marketplaces into one dashboard, to understand how profitable your books are.
Available for Chrome, PC, & Mac: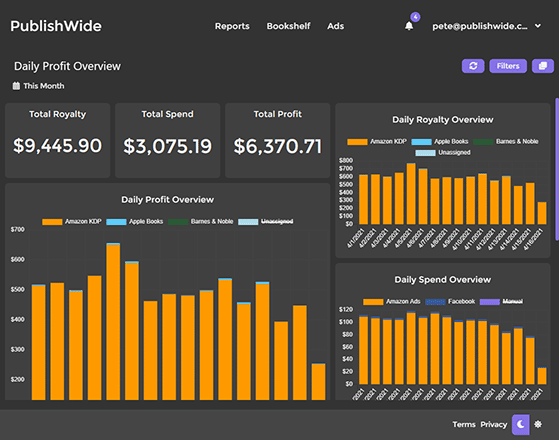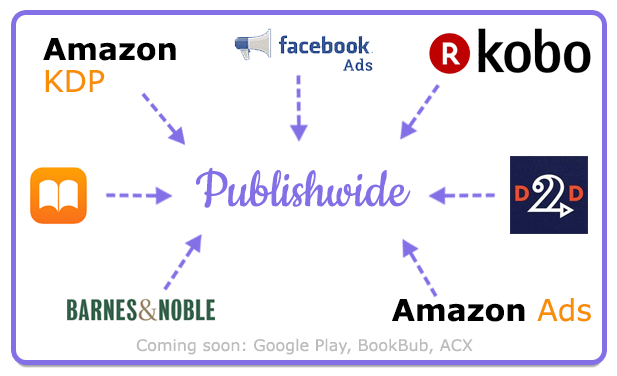 Data Publishers Need to Succeed
Publishwide gives publishers & self-published authors deeper insights into how books are performing by combining sales data & ad expenses into one dashboard.
Compare the performance of any ad being run to any book with their earned royalties, and get a clearer picture of profitability.
We currently support: Amazon Kindle Direct Publishing (KDP), Amazon Ads (AMS) including all international, Facebook & Instagram Ads, Apple Books, Barnes & Noble (NookPress), Draft2Digital, Kobo
Find Low
Performing Ads
Quickly find the winning and losing ads so that you stop wasting money and improve your ROI.
Discover Book Profitability
Track all ad and manual expenses for a book to see its profitability – not just its royalties.
Build Custom Dashboards
Create your own dashboards to zero in on the exact information you need to make profitable decisions
Analyze
Daily Data
View daily book stats by author, marketplace, format – or tag your books and get even deeper insights.
---
How It Works
Here is a quick run down on how Publishwide works:
---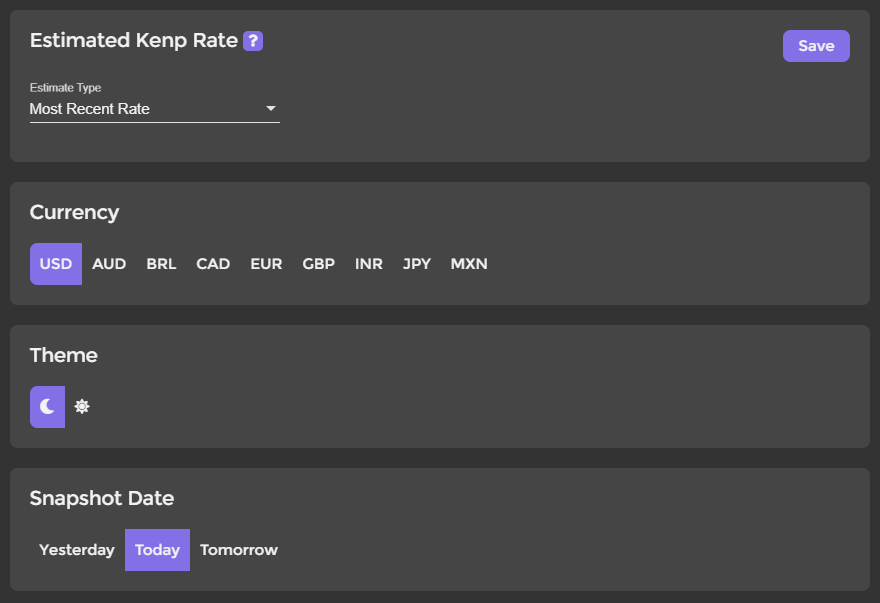 Setup & Configuration
Sign up for a free 14 day trial (no credit card required), configure your account basics, & download our Sync app (via Chrome extension, or standalone app for PC or Mac).
Customize features like:
Preferred currency
KENP rate (set your own or use latest available)
Time zone
Facebook Ads accounts to import
---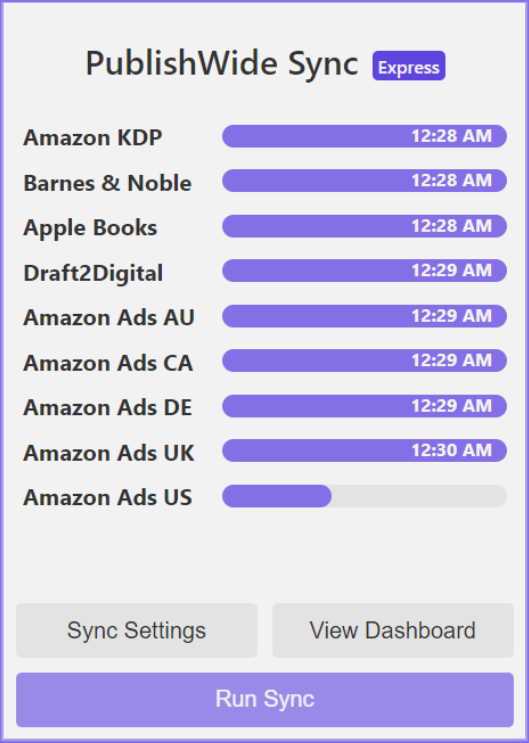 Connect sales & ad accounts
Publishwide imports your data every 2 hours, as long as Chrome is open.
Once you've installed our Chrome extension, log into all of the platforms you wish to integrate, & click start sync! This will import data from marketplaces like:
Amazon KDP
Apple Books (iTunesConnect)
Barnes & Noble (Nookpress)
Amazon Advertising (US & all international marketplaces)
Facebook Ads (including Instagram ads)
Draft2Digital
Kobo
Coming soon: BookBub, Google Play, ACX
---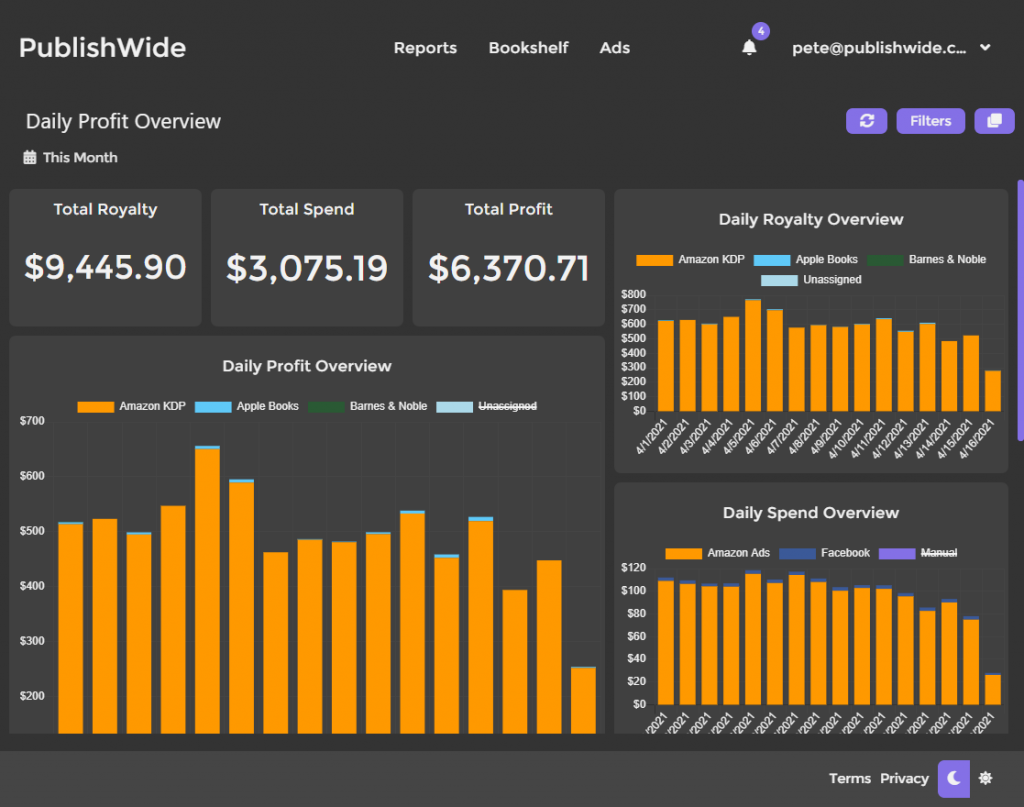 Run reports, anywhere
Publishwide auto-assigns ads to books so you can start viewing how profitable your books are right away!
You can now slice & dice your daily data any way you want to generate the insights you need to make smarter decisions.
Your reports are accessible from any browser on any device – so you can view your reports on the go.
You can also improve your experience by:
Tagging your books & grouping them into series
Logging manual income & expenses to gain more accurate insights
Creating customized dashboards for your needs
100% Secure & Private
We don't store ANY of your login credentials or cookies on our servers. Instead, your credentials are encrypted & kept safe on your own computer. We don't even know what emails you use for your marketplace accounts.
The only data sent to our servers are sales & expense reports, which is encrypted & transferred via 256-bit AES encryption – the industry gold standard for encryption.
Your data is yours. Its never sold or shared with any other parties. You can export all of your data via CSV, and can disconnect and delete all of your account data from our servers at any time in the user settings page.
Author & Publisher TESTIMONIALS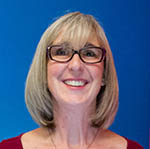 Publishwide saves me time doing analytics and has even saved me money since it's helped me catch Amazon Ad campaigns that were spending without delivering results. Of all the author tools I subscribe to, Publishwide is the only one I use every day.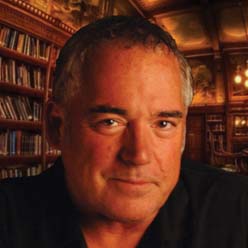 It is beautifully laid out. I get exactly the data I need, and like the filters option, especially for date ranges. I find the app quick to refresh and, double-checking its accuracy, it delivers correct data. This is probably obvious since it's coming directly from Amazon, but I've used many apps where data harvesting is glitchy and untrustworthy.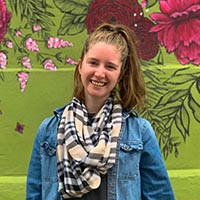 I love data so this one is fun. This app syncs your Kindle, Amazon and Facebook Ads analytics into one dashboard where you can manage them all.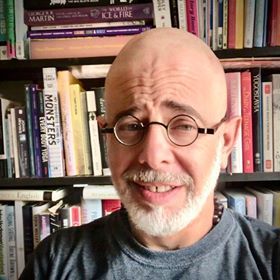 You nailed it, here. I am a publisher, and you have solved the incredibly annoying task of reconciling Amazon sales and ad reports. I hope you push this software to its full potential, as there is a huge hole in the market there, but even as it stands, it is a huge sanity and time-saver for my business.
– Jake Mayer of Wordbound Media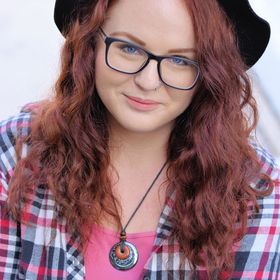 What is the catch on PublishWide? The UX of the interface deserves a chef's kiss, it just syncs automatically, and the TOS is reasonable. Are you guys funded by blood diamonds?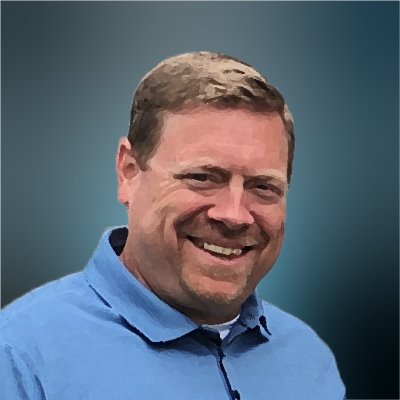 I feel like I've found what I was looking for with PublishWide. I love having the integrated view of earnings and ad spend.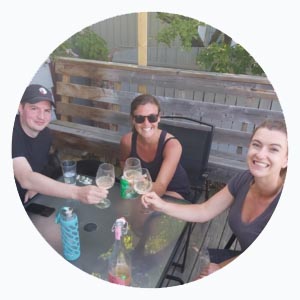 I really love using Publishwide. It's great for tracking our income/expenses.
Plans & Pricing
Join now for a 14 day risk-free, full feature trial of Publishwide – no credit card required.
All plans include all current Publishwide features and all future marketplaces.
Join today to lock-in the low early adopter pricing before we switch to a tiered pricing model.
Early Access Pricing
$29/mo
For all publishers up to $1M/yr
Join today to lock in this special early access price – prices go up later this year!

24 Hour Email Support
9a-5p EST Live Chat Support
Auto-import every 2 hours
Large Publishing Houses
For publishers earning $1M+ / year
We offer bespoke services and custom development to meet the needs of large publishers. Get in touch with us today to learn more.
All Plans Include:
Marketplace Integrations:
Amazon Kindle Direct Publishing (KDP)
Apple Books (iTunesConnect)
Barnes & Noble (NookPress)
Draft2Digital
Kobo
Advertising Integrations:
Amazon Ads (All International Marketplaces)
Facebook Ads
Instagram Ads
Features:
Auto importing from all integrations
Track unlimited books & ads
Lifetime Daily Royalty & Sales Data
Auto Ad-to-Book Assigning
Log Manual Expenses
Customized Dashboards
Group books by series or custom tags
View data by marketplace, author, tag, or anything else!